The red-green wave propelled the Francophone Greens (ECOLO) to win a 7.8  percent share of the vote (up 2.9 percent) and two seats in the European Parliament. Meanwhile, the Francophone Worker's Party (PTB) got 5.57 percent and its first ever seat in European Parliament.
Of course, globally, the three traditional parties are widely perceived as being unable to tackle ecological challenges. The traditional Francophone liberal and socialist parties have both lost a significant amount of support, a trend that also applies to some extent to the Francophone Christian democrats.
In the case of the liberals, this can be explained by their participation in the previous federal parliament, which made reforms and used discourses perceived by many French-speaking voters as coming far too close for comfort to the Flemish nationalist agenda. The party's aggressive use of YouTube videos aimed at the Francophone Greens but based on fake news may have inadvertently lent the ecological debate an even more central significance.
However, the Greens did themselves no favours with a flyer that was received as being too communitarian and complacent towards Islamic radicalism, causing a media storm that undoubtedly cost them votes among antireligious circles in particular.
Receive the best of European journalism straight to your inbox every Thursday
The Left united in its strong criticism of the European Union's 'neoliberal agenda', with a focus on trade treaties, the European Stability Mechanism and the policies of the European Central Bank. It seems that a majority of Francophone voters supported these criticisms – reflected in the successful showing of figures such as the socialist Paul Magnette, a fierce opponent of CETA free trade agreement with Canada, and an advocate of a 'social Europe'.
The spread of populism and xenophobia in Flanders
As for Flanders, with the exception of Brussels, the extreme rightwing Vlaams Belang party won 12 percent of the votes, an unexpected increase of no less than 7.7 percent that propels it from one to three EP seats and second place overall. The radical right Flemish nationalists of the New Flemish Alliance (NVA) topped the table with 13.73 percent, slightly down on 2014's results. Between them, the two parties won the support of half of all Flemish voters. However, rather than reflecting a pronounced Euroscepticism, this has more to do with widespread criticism of the country's immigration and security policy.
Thus Vlaams Belang (VB) invested heavily in a Facebook campaign emphasizing 'the loss of European values' and targeting the Flemish youth in particular. VB also received further media coverage for listing the young Dries Van Langenhove as a candidate in the country's federal election, which was held the same day as the EP election. Van Langenhove is the founder of the ultra right 'Schild & Vrienden' group and under investigation for its distribution of neo-Nazi propaganda. Nevertheless, he now enters the federal government, having attracted significant support.
Critical voices
Critique of the EU is alive and well in Belgium, but varies depending on where you look. Flanders is in the grip of the populist, xenophobic wave that has washed over all of Europe, taking a very hard line on immigration and promoting political personalities who have little respect for European legislation and the Universal Declaration of Human Rights when it comes to migrants. The Francophone population is increasingly focusing on the EU's neglect of social and ecological issues. Such divides continue to invite the impossible prospect of the country's implosion.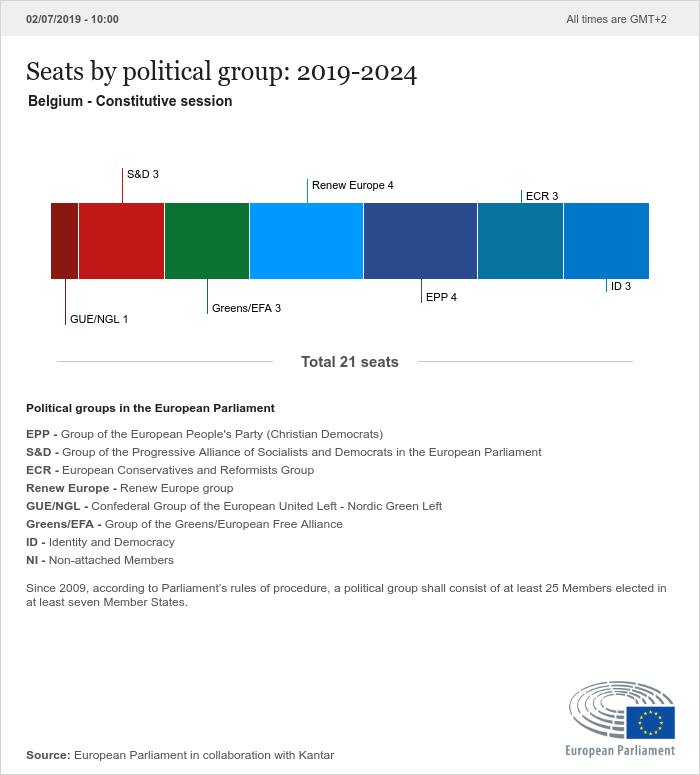 Cet article est publié en partenariat avec Eurozine
Cet article est publié en partenariat avec Eurozine
Cet article est publié en partenariat avec Eurozine
Cet article est publié en partenariat avec Eurozine
Was this article useful? If so we are delighted! It is freely available because we believe that the right to free and independent information is essential for democracy. But this right is not guaranteed forever, and independence comes at a cost. We need your support in order to continue publishing independent, multilingual news for all Europeans. Discover our membership offers and their exclusive benefits and become a member of our community now!
Russia's attack on Ukraine: Kateryna Mishchenko in conversation with Sergey Lebedev
Two weeks after the launch of Russia's massive attack on Ukraine, Ukrainian writer Kateryna Mishchenko – who had to flee Kyiv – shared her thoughts with our readers and with Sergey Lebedev, a veteran Putin opponent.
Go to the event >