Before the elections, opinion polls indicated two parties to be neck-and-neck, vying for first place: the People's Party for Freedom and Democracy (VVD), a rightwing liberal member of ALDE led by Prime Minister Mark Rutte, and the new far-right populist party Forum for Democracy (FvD) that suddenly came to prominence in provincial elections in 2016 and is now part of the eurosceptic ECR grouping. But it was the Labour Party (PvdA) that ended up victorious on behalf of the Socialists & Democrats bloc.
This more than made up for its performance in the 2014 EP election, when Labour played a role in coalition with Rutte's VVD that largely lost the goodwill of leftwing voters. After national elections in 2017, Labour was free to critique Rutte's third grand coalition from the outside. The real boost then came from S&D veteran lead candidate Frans Timmermans: it was not least the tantalizing prospect of a Dutchman potentially landing a top EU job that propelled Labour to the top of the poll with 18.9 percent and six seats.
European elections unlikely to alter domestic politics
As unexpected as the result was, its effect on domestic politics has been limited thus far. VVD has won three national elections in a row under Rutte. Despite never having won a European election, second place means that it remains the strongest party in the current coalition.
FvD, the upstart in the populist bloc, came third with 10.9 percent and three MEPs. Using a cautious anti-EU rhetoric that made no mention of Nexit, they struck a fine balance between EU-scepticism and fears of becoming mired in a Brexit-style process. Among the party's leading politicians, Derk Jan Eppink had worked in cabinet secretary positions at the European Commission before being elected as an MEP in 2009, when he represented the Belgian LDD party (then known as Lijst Dedecker). Eppink certainly seemed competent during the campaign, allowing party leader Thierry Baudet to use his anti-Islam rhetoric freely in an attempt to woo the traditional populist vote. Denying the human causes of climate change is another of Baudet's specialties.
Receive the best of European journalism straight to your inbox every Thursday
The FvD campaign effectively wiped out Geert Wilder's PVV, which had been aiming to take first place in national elections just two years ago but did not receive a single mandate this time round – unless Brexit finally happens and the re-distribution of seats leads to the PVV securing one MEP position.
Relative stability, relatively high turnout
The Dutch political system has very low barriers to entry because there are no first-pass-the-post mandates at any level. Neither are there any thresholds in regional elections or those for the lower and upper houses, or indeed for the European Parliament. Nonetheless, leftwing and rightwing populist blocs remain relatively stable. The Green-affiliated parties have increased their overall support.
Turnout increased by 5 percent on 2014 levels and was the highest since 1989. Yet with 41.8 percent, it is still significantly below the EU average. Although the Netherlands has one of the highest non-national populations among member states, it is likely that only a small number of EU nationals voted since the relevant registration process effectively ended before the election campaign began.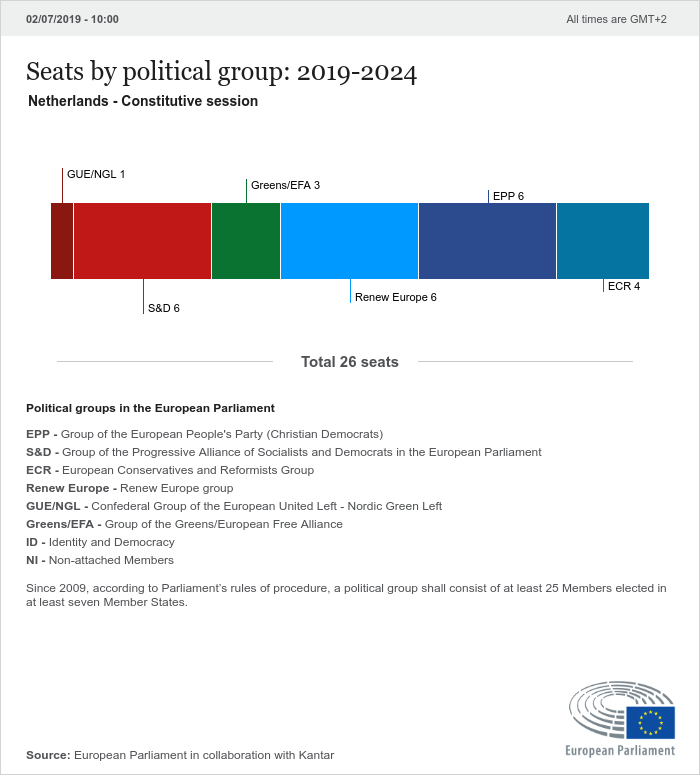 Cet article est publié en partenariat avec Eurozine
Cet article est publié en partenariat avec Eurozine
Cet article est publié en partenariat avec Eurozine
Cet article est publié en partenariat avec Eurozine
Was this article useful? If so we are delighted! It is freely available because we believe that the right to free and independent information is essential for democracy. But this right is not guaranteed forever, and independence comes at a cost. We need your support in order to continue publishing independent, multilingual news for all Europeans. Discover our membership offers and their exclusive benefits and become a member of our community now!
Russia's attack on Ukraine: Kateryna Mishchenko in conversation with Sergey Lebedev
Two weeks after the launch of Russia's massive attack on Ukraine, Ukrainian writer Kateryna Mishchenko – who had to flee Kyiv – shared her thoughts with our readers and with Sergey Lebedev, a veteran Putin opponent.
Go to the event >